Westminster Public Schools Foundation Invests in Math & CTE Programs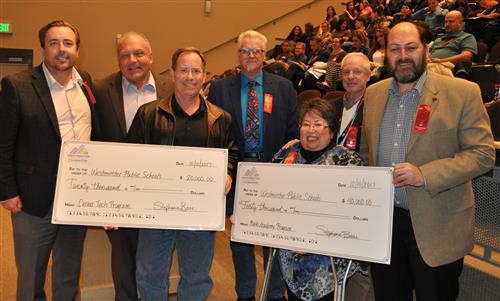 The Westminster Public Schools Foundation made a major investment in WPS students to fund an after-school math tutoring program and help pay for high school students to receive Career Technical Education (CTE) certificates. The Foundation presented checks to both programs during the Board of Education meeting on Tuesday, Oct. 10.
"This is a big step towards touching the lives of the kids who are in the district," said David Bell, WPS Foundation board member. "We couldn't be happier with the partnership the Foundation has created with the school district."
The Foundation gave $40,000 to support the WPS Math Academy program. 
The second donation by the WPS Foundation will go toward paying for high school students enrolled in CTE programs at Westminster High School and Hidden Lake High School to receive certificates of completion. The certificate program can cost as much as $250, which many students and their families often can't afford. These certificates help graduating students be able to step into their job search with marketable skills.
"We are serious about ensuring that our high school graduates are prepared to enter the working world as professionals," said Sandi Steiner, director of post-secondary workforce readiness in WPS. "By earning any of the approved certificates, each student is able to demonstrate workforce readiness to a prospective employer."
The WPS Foundation, in conjunction with Wells Fargo, presented a check for $20,000 to the WPS Career and Technical Education. In addition to the certificates of completion, the money will support leadership programs for students who would like to attend events and conferences related to their career paths.