Newsroom
We are excited to share our many events and accomplishments with you, our supporters.  The WPS Foundation is truly grateful to work with our students, teachers, and community to support our public schools. Please enjoy the updates below of our accomplishments.
2019 – 2020 WPS Foundation Scholarship Recipients
Westminster, CO – on May 1, 2019 the Westminster Public Schools Foundation announced twenty-four Westminster Public School graduates have been selected to receive scholarships.
The students were picked from a competitive pool of 93 applications.  Students were evaluated on their applications, essays, recommendation letters and interviews.  Those selected will be awarded financial aid and college retention support and they will be recognized at an upcoming district event. 
The scholarships awarded included 6 Adams County Scholarships worth $20,000 each, 6 Peierls Scholarships worth $10,000 each, an Outstanding Student Scholarship, a Premier Members Credit Union scholarship, the Spirit of "76" scholarship, and three Westminster Retired Schools Employee Association scholarships, among others. 
Students were selected for their hard work and persistence through high school as well as a commitment to giving back to their communities. They reflect the diversity of our community in terms of backgrounds, experiences, skills and interests.
Westminster Public Schools Foundation scholars will attend a 1-day summer program where previous scholarship recipients who have successfully completed their first year of college will return to offer advise and encouragement to the new graduates. 
Congratulations to all the new recipients!
Adams County Scholars – 4 year scholarships of $5,000 per year
Janeth Villalobos 
Jetzabe DeAnda 
Anecia Al-Baweb 
Sawyer Bieske 
Yamileth Salinas 
Julia Pham 
Peierls Scholars – 4 year scholarships of $2,500 per year
Vanesa Cuellar Leyva 
Stephania Rodriguez-Nieto 
Elizabeth Cedillo 
Marina Reyes 
Alisson Castro Morales 
Stephanie Gonzales 
Leslie De La Torre Scholarship – 1 time scholarship of $1,000
Erika Guerrero
Hyland Hills Parks and Recreation Employee Scholarship – 1 time scholarship of $5,000
Giovanni Bernal 
Westminster Retired School Employee Association Vocational Scholarship – 1 time scholarship of $2,000
Jessica Venegas 
Westminster Retired School Employee Association Academic Scholarship – 1 time scholarship of $2,000
Mitzy Gonzalez 
Westminster Retired School Employee Association Future Teacher Scholarship – 1 time scholarship of $2,000
Samantha Cummins-Valdez 
Ranum Future Teachers Scholarship – 1 time scholarship of $2,500
Paola Benitez Perez 
Ruby Guardado 
Spirit of '76 Scholarship – 4 year scholarship of $1,900 per year
Sebastian Godina 
Don Rhoda Promising Student Scholarship – 1 time scholarship of $3,000
Yaremmy Vargas 
Westminster Public Schools Foundation Outstanding Student Scholarship – 1 time scholarship of $5,000
Gesselle Salayandia 
Premier Members Credit Union – 1 time scholarship of $5,000
Victor Banuelos 
Westminster Public Schools Business Scholarship – 1 time scholarship of $1,735
Aroon Enriquez
Lynch Family Scholarship – 1 time scholarship of $2,000
Linzey Velez
Scholarship Recipient, Ivan Mendoza, featured on Westminster Public Schools Website!
Board Member, Aracely Hobday, receives Personal Achievement Award
DREAMer Day 2018
Eight Westminster sophomores, juniors, and seniors attended the 5th annual DREAMer Day on the Auraria Campus put on by the local nonprofit Inspire!  Students learned about the path to college for undocumented students.  They said often they feel supported in pursuing their path to college, but this conference helped them learn the specifics of applying for financial support and navigating college systems.  The students also enjoyed seeing young people like themselves, like guest speaker and Channel 9 news anchor Sonia Gutierrez, who are undocumented and have made their way to and through college!
Westminster Public Schools Foundation Invests in Math & CTE Programs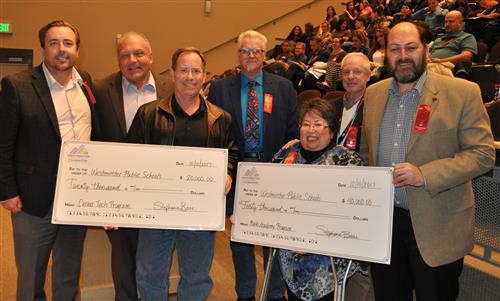 The Westminster Public Schools Foundation made a major investment in WPS students to fund an after-school math tutoring program and help pay for high school students to receive Career Technical Education (CTE) certificates. The Foundation presented checks to both programs during the Board of Education meeting on Tuesday, Oct. 10.
"This is a big step towards touching the lives of the kids who are in the district," said David Bell, WPS Foundation board member. "We couldn't be happier with the partnership the Foundation has created with the school district."
The Foundation gave $40,000 to support the WPS Math Academy program. 
The second donation by the WPS Foundation will go toward paying for high school students enrolled in CTE programs at Westminster High School and Hidden Lake High School to receive certificates of completion. The certificate program can cost as much as $250, which many students and their families often can't afford. These certificates help graduating students be able to step into their job search with marketable skills.
"We are serious about ensuring that our high school graduates are prepared to enter the working world as professionals," said Sandi Steiner, director of post-secondary workforce readiness in WPS. "By earning any of the approved certificates, each student is able to demonstrate workforce readiness to a prospective employer."
The WPS Foundation, in conjunction with Wells Fargo, presented a check for $20,000 to the WPS Career and Technical Education. In addition to the certificates of completion, the money will support leadership programs for students who would like to attend events and conferences related to their career paths.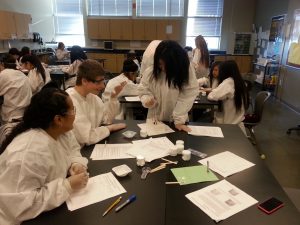 Project Lead the Way
The WPS Foundation is proud to support students earning college credits while completing courses at Westminster High School.  The Foundation was able to support a total of 79 students with $31,212 to pay for 309 college credits.  We hope to support even more in the coming years!