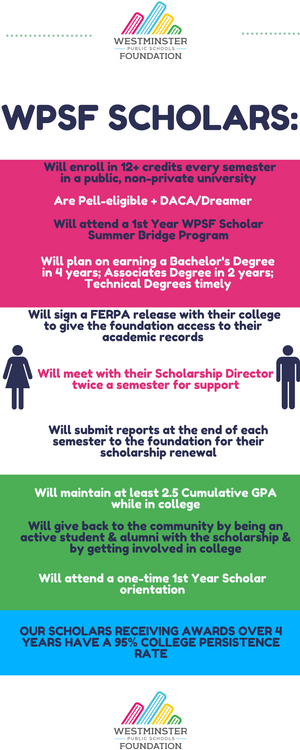 WHO USUALLY RECEIVES THIS SCHOLARSHIP?
WPSF Scholarship Recipients are:
Accountable - Our students do what they say they'll do
Work hard - Our students give it their absolute best
Assertive - Our students know when they need help AND ask for it
Goal-oriented - Our students have a graduation, and a post-collegiate mindset
Give back - Our students find ways to volunteer and give back to their community
WPSF SCHOLARSHIP SELECTION PROCESS
After submitting your scholarship application, you'll receive information on next steps.
Here is what you should expect and prepare for:
Scholarship applications will be reviewed by a committee of board members and community volunteers who partner with the foundation to provide feedback. This feedback is used to determine which students will be interviewed. These readers will assess students on the following criteria to determine whether or not to recommend them:

Content and quality of scholarship essays
Quality/length of your involvements
Quality of your resume
Your academic history (transcript)

Students whose scholarship applications are recommended for an interview will be notified and given an interview date

Depending on how many applications the foundation receives, some students might be placed on a waitlist
Regardless of decision, students will be notified about their next steps

Students are awarded in April
Awarded students attend scholarship orientation & summer bridge program!
Awarded students maintain relationship with scholarship director throughout their college career
VOLUNTEERING/GIVING BACK
Getting involved in college
Getting involved in community
By being an active alumni
Giving time/talent/resources upon graduation
The Foundation believes that providing ongoing support for scholars after they are awarded is crucial for student persistence, and graduation from college. Therefore, scholarship recipients are required to stay in touch with the foundation for the duration of their college pursuance. On the right is a graphic that sums up WPSF Scholarship activities that are essential to the success of each of our students.
Have you been offered a scholarship interview and you need help preparing for it? Use this link to request a Mock Scholarship interview with the WPS Foundation. You must be a WPS student to request.